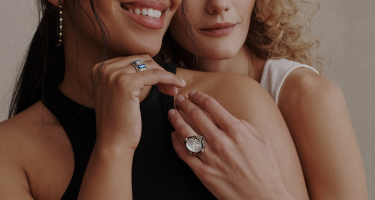 Testimonials
"WOW! You guys are a total CLASS ACT!!!! I already received my jewelry today and it is GORGEOUS!!! I have this ring already in the 18k YG and the RG isn't that much different, but I think I'm going to keep it anyway. I see you do have a return policy, but it is just so lovely I hate to return it!!! I know I will be buying more from you. Thank you, again, for your great service and all of your help!!"
Holly n.
"I bought a Cuervo y Sobrinos Robusto on ShopWorn.com after reading about them on WatchUSeek. I was a little concerned about any difference in definition of "display condition" between myself and the seller. However, this watch looks brand spanking new. No complaints at all on condition. Pictures of the face of the watch really do not do much justice to this model. Package came with all the gauges of the humidor in place, instructions for use (both watch and humidor), warranty from shopworn, and un-stamped CyS warranty card."
Daniel K.
"Excellent item, great communication, well packaged, fast delivery. Thanks!"
Tracey W.
"Bought a beautiful Montblanc pen. Item arrived as described with fast delivery. Excellent transaction."
Leon S.
"I received my Alpina Avalanche Extreme Regulator Mechanical Men's Watch yesterday via UPS. I have to tell you that I could not be more impressed. The watch is beautiful and of a higher quality than I expected. Plus, the ordering and shipping from ShopWorn was as promised. I look forward to future purchases of fine timepieces form your website. Consider me a new and happy customer. Thank you and Happy Holidays!"
Scott P.
"Just wanted to say thank you for the outstanding service. I'm very happy with the watch and dealing with you. Looking forward to shopping with you again!!"
Nik L.